V É L O
Jean-Benoît Zimmermann
"In Paris by bike, we overpass cars, by bike in Paris, we overpass taxis," sang Joe Dassin in 1972. That same year, the first "bike ride demonstration" took place in Paris on April 22 with the slogan " oil we do not care, energy is us.

Yet at that time, in many big cities, riding a bicycle was sometimes a feat. Only Strasbourg, Amsterdam and a few other cities had long since converted, as did many working or rural towns, to the use of bicycles as a means of daily transportation.

Today, as the practice of cycling becomes more widespread, the bikes presented in this book become characters in themselves, emancipate themselves from humans who use them, take care of them or sometimes mistreat them. Proud, funny or moving, they tell their thousand and one ways, around the world, to find their place, in our daily lives

Texts from photographer, sociologist, writers, philosophers, sportsmen, activists or simple users of bike accompany this beautiful photographic work.

Jean-Benoît Zimmermann lives and works between Marseille and Paris.

"Vélo" is one of his favorite photographic themes.
http://jeanbezim.com
118 pages, 136 photographies, introduction and 8 texts of authors

format 13 x 19
Price : 13,00 €
ISBN 978-2-9563898-1-1
Vélo is available in Paris at

Librairie Royaumes - 42 Rue de Tolbiac 75013
Librairie Jonas - 14 Rue Maison Blanche 75013

And now on line on the website of Photo#graphie by clicking here
To browse some pages online click on an image :
Photos sous le régime de la Licence Creative Commons Attribution - Pas d'Utilisation Commerciale - Pas de Modification 4.0 International.
---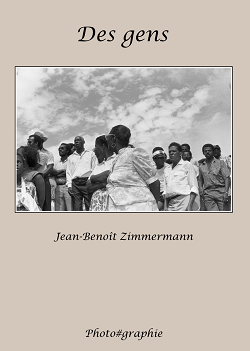 "Des Gens", it is also a book !
Size 19 x 13 cm  -  118 pages 
82 photos, B&W and colors
13 €
The book is available
in Paris : Librairie Photographique - Le 29 (29 rue des Récollets 75010) and Librairie Flammarion, Centre Georges Pompidou.
in Marseille : Bookshop of MUCEM, Atelier des Arts (85 rue d'Aubagne 13001), Librairie Pantagruel (44 Rue Paul Codaccioni 13007), Librairie Lumière d'Août (Village des Docks, Place de la Joliette - 1302)
And now on line on the website of Photo#graphie by clicking here
To browse some pages online click on an image :
A publication of the association "Photo#graphie"

Photo#graphie  is an association whose aim is to help artists, mainly in the field of image and writing, to show and distribute their works. To this end, Photo#graphie may organize exhibitions, publications or any other artistic manifestation consistent with its purpose and may assist or take charge of the production, distribution and marketing of the works of these artists.
This email address is being protected from spambots. You need JavaScript enabled to view it.