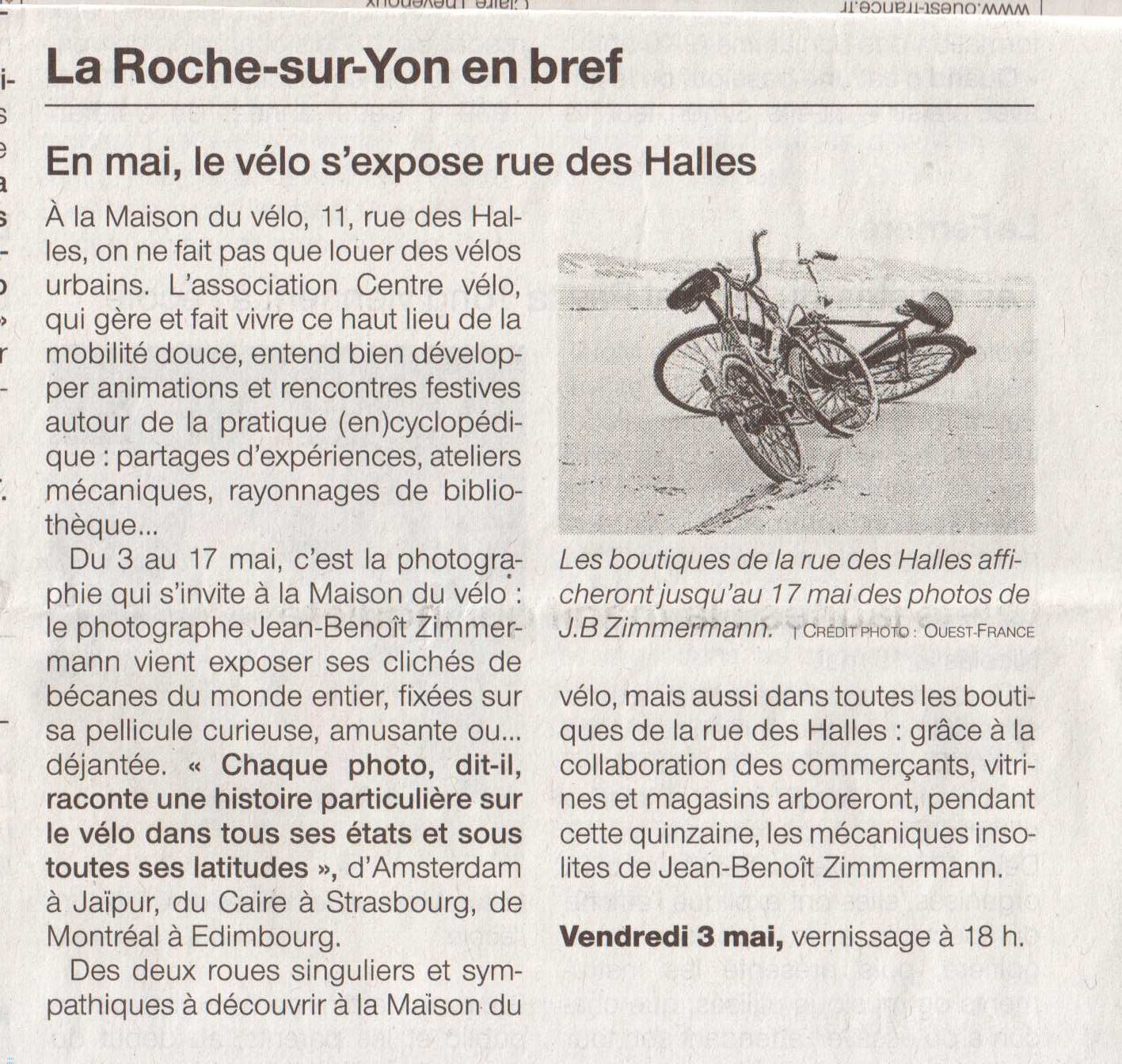 Ouest France - May 3d 2019
Pictures of the vernissage at Maison du Vélo : a nice place of exchange and sharing !
And the windowshops of the rue des Halles ...
---
"Vélo" at La Roche-sur-Yon

At the invitation of the Maison du Vélo, my photographs will be visible in La Roche-sur-Yon, from May 3rd to 17th,

for an exhibition-walk at the Maison du Vélo and in the shop windows of the rue des Halles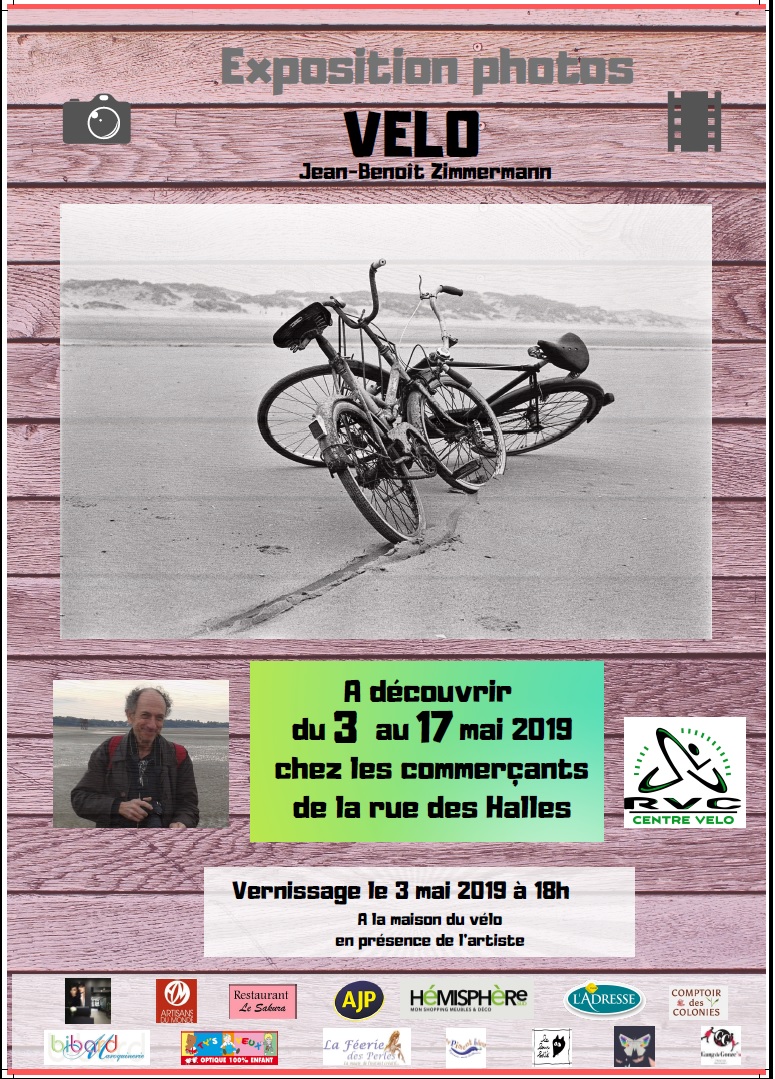 ---

---
"Vélo" at Science Po - Paris
On the initiative of the Association Sciences Pistes Cyclables, as part of the Bike Week 2019 (18-24 March), my pictures "Vélo" hosted in large format prints in the lobby of Science Po Paris (28 rue des Saints-Pères) ...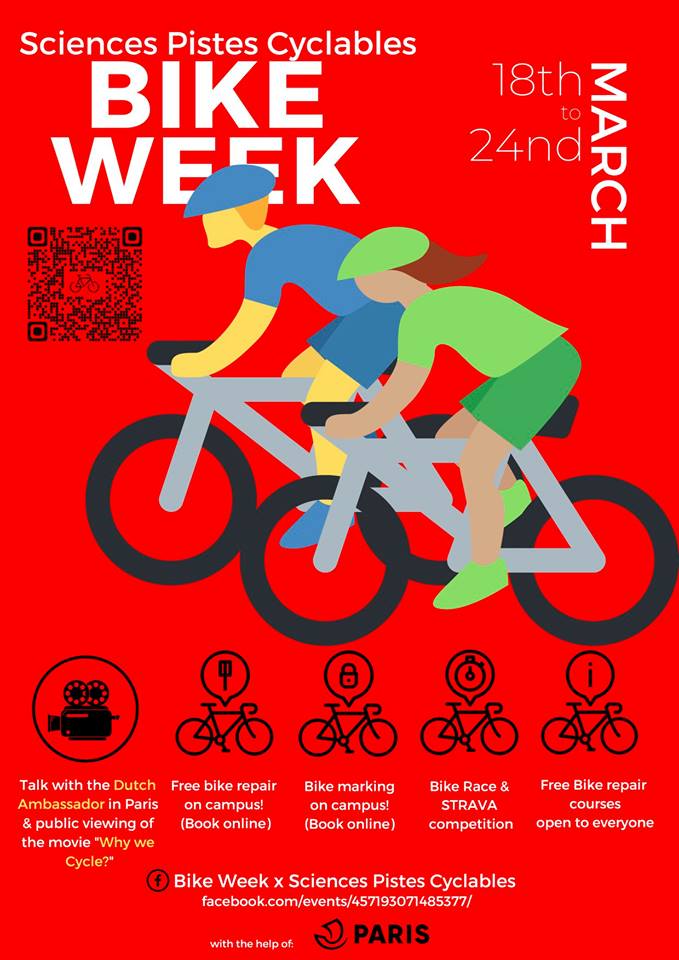 Click on an image to view as a slide show  
---
Thanks to the Oeil de la Photographie for the publication of a portfolio of our "Fragments" !
(Photographs : Jean-Benoît Zimmermann - Texts : Aline Memmi)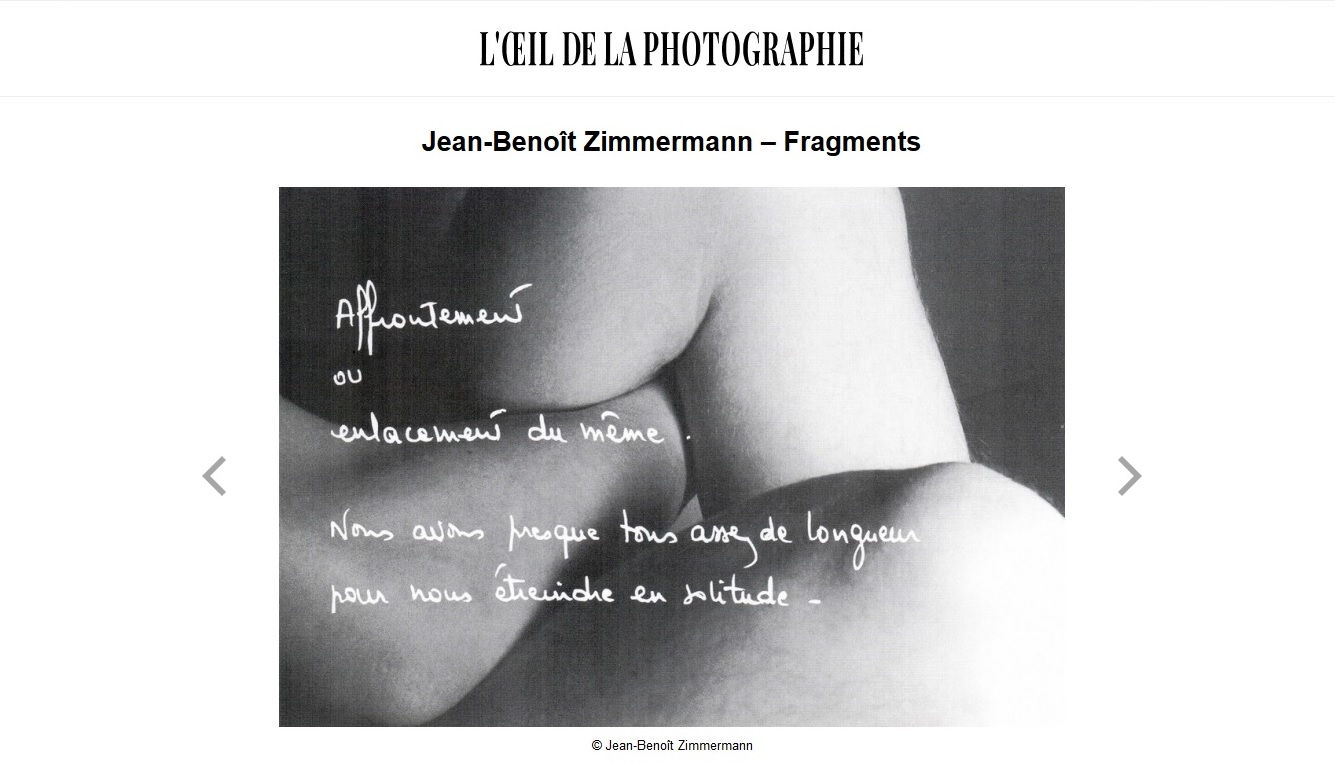 To see the portfolio on line, click on the picture
 2d February 2019
---
"Le rendez-vous 11 11 18"
A collective of 20 artists, for peace and against all wars: paintings, drawings, photographs, sculptures ...
In Paris 20th from November 7th to 18th
"To unite for the peace and the memory of all the wars and outrages to humanity, to pay homage to the soldiers, men, women, children, cities and nature damaged by the conflicts"

My contribution to this exhibition mirrors two series of photos organized around a text, in which I denounce the destructive war of youths who were enemies only by the antagonisms that powerful people had decided for them. The first series of photos was made by my grandfather on the Meuse front in 1914-1915. Through the second, I wanted to echo it through images of the same places visited today. Places of memory, places invaded by vegetation or simply land marked by the stigmata of trenches and explosions of shells.
The exhibition will take place in two places, from November 7 to 18 (Wednesday to Sunday from 12h to 19h) :
- at the gallery Ménil 8 - 8 Rue Boyer, Metro Gambetta, where you will see my contribution
- at the church of Menilmontant and the crypt, ND de la Croix, 4 Rue Eupatoria, Metro Ménilmontant, also accessible by foot (10 minutes) from the gallery Ménil 8, where I also encourage you to go.
The vernissage will take place Saturday, November 10th from 18:30 to 21h. I will be happy to welcome you if you are available on this schedule. But I will also be present at other slots. Do not hesitate to tell me (by mail or by phone 06 71 14 50 63) when you want to spend, so I'll try to be present.
---
 "Des Gens" at MSH Paris-Nord
If you have not been able to come to the exhibitions of the Atelier des Arts in Marseille and Le mois du Ratrait in Paris in 2017 or if you want to see the pictures again or to send your friends, the exhibition "Des Gens" comes back, hosted by the Maison des Sciences de l'Homme - Paris Nord, from September 10 to October 3, 2018.
Easy to find, just at the end of line 12, at the limits of the future "Campus Condorcet"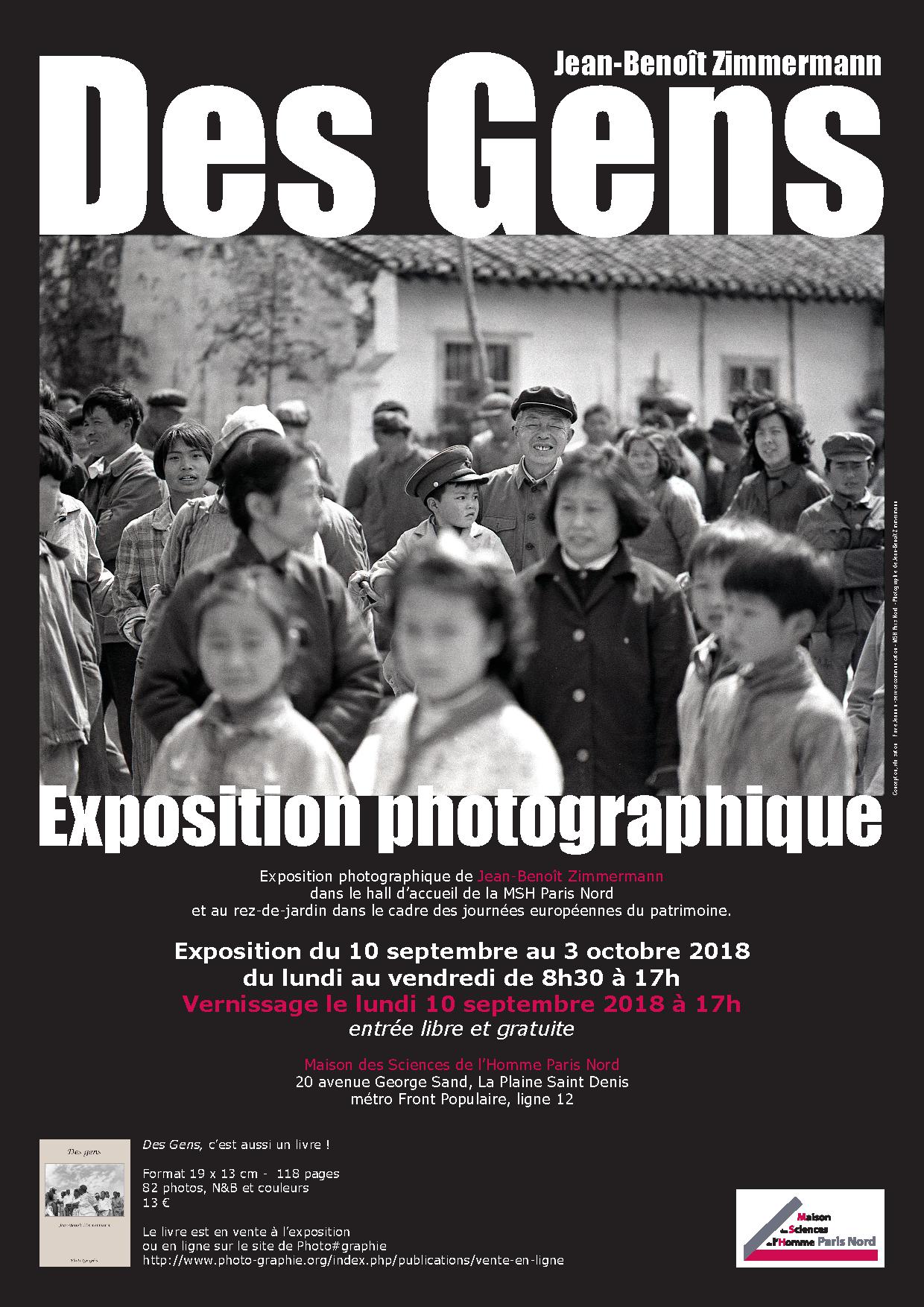 ---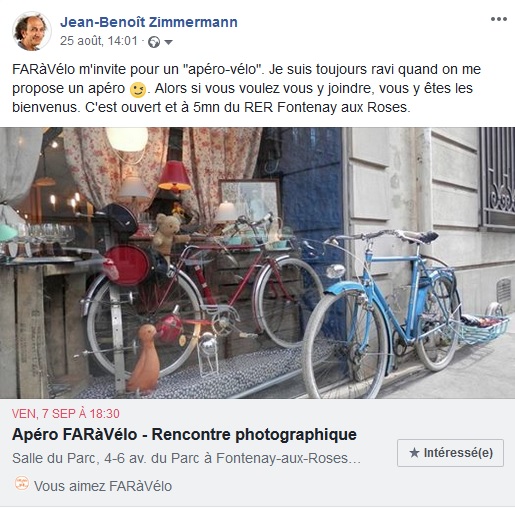 ---
L'Oeil de la Photographie me fait le plaisir de publier un portfolio de mes Vélos!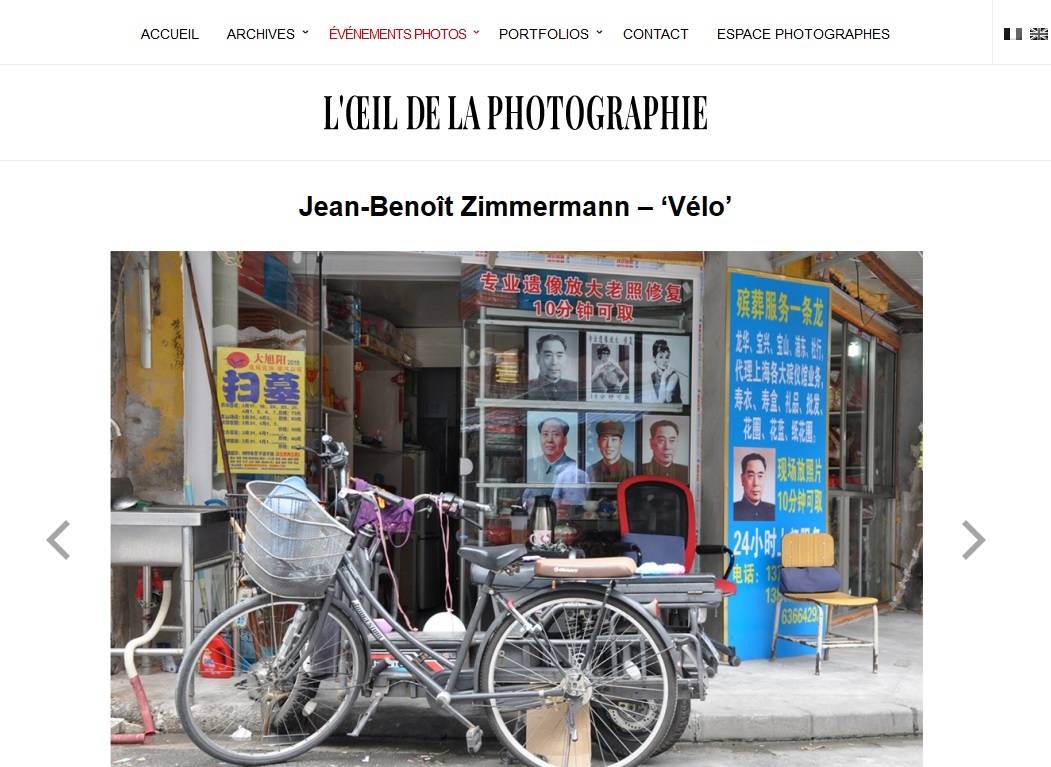 Un bel article sur mes photos de vélos dans l'excellente revue Vélocité, revue de la Fédération des Usagers de la bicyclette

 https://www.fub.fr/boutique/magazine-velocite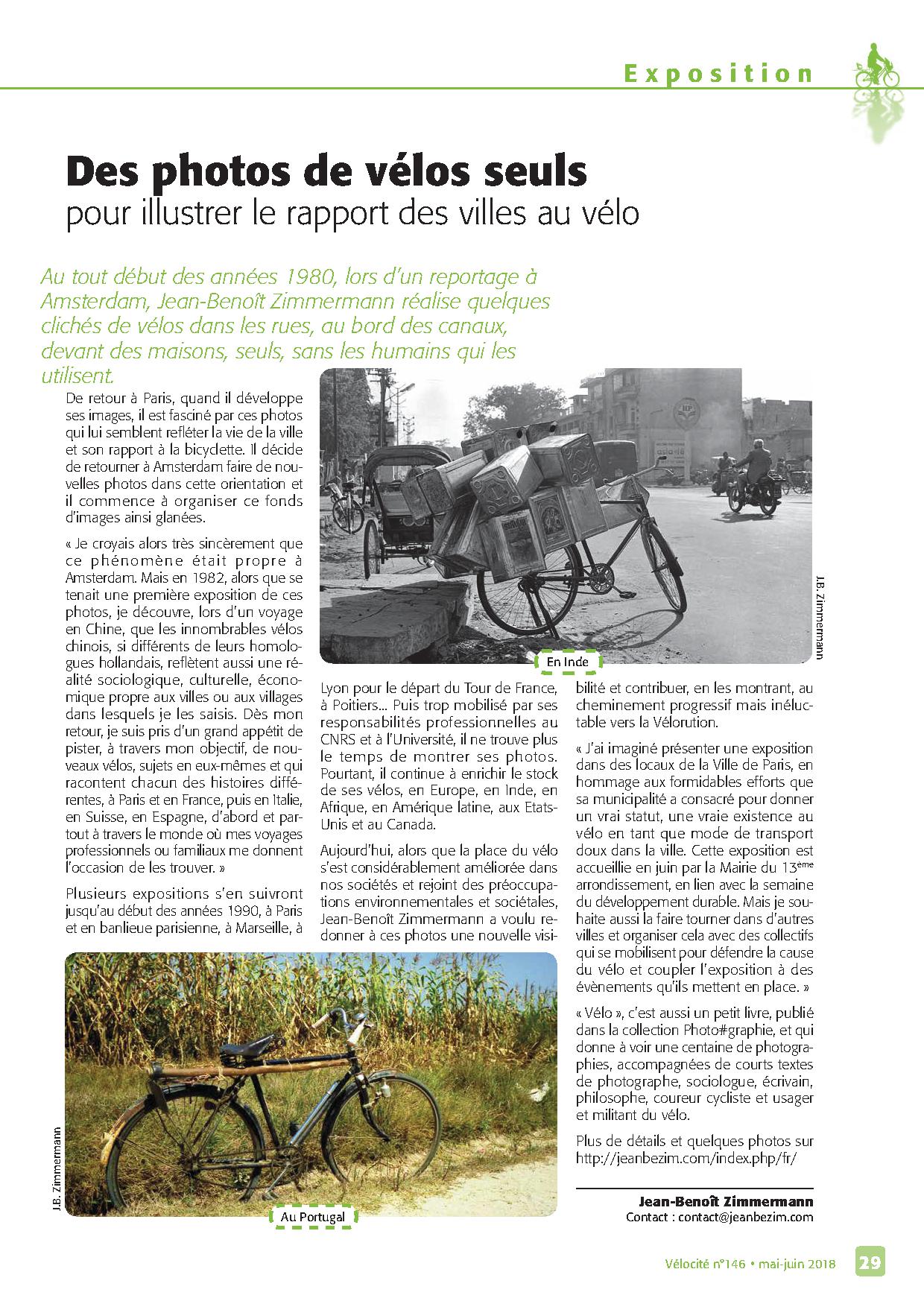 ---
Why we cycle

Première projection en France du documentaire néerlandais "Why we cycle" ("Pourquoi le vélo"). Pendant 60 min. des habitants et des experts explorent les effets du vélo sur eux-mêmes et sur la société, révélant des bienfaits insoupçonnés. Suivi d'un débat avec le réalisateur Gertjan Hulster, Pierre Serne (Président du Club des Villes et des Territoires Cyclables) et Bart Vos (Directeur Holland Bikes).
Inscription gratuite mais obligatoire via le lien ci-dessous.
---
A vast panorama, both graphic and sociological, of bike in all its states and in all its latitudes. Under the gaze of the photographer, bicycles become characters in themselves and tell their thousand ways, around the world, to find their place in our daily lives.

---
My exhibition

Des gens

now in Paris !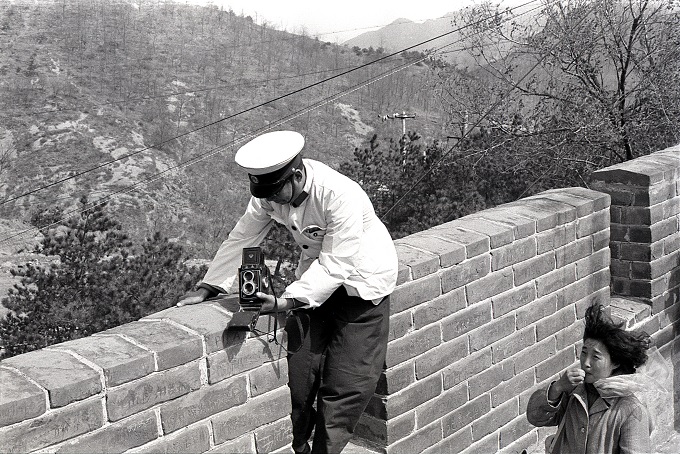 In the Chapelle du Théâtre de Ménilmontant, 15 Rue du Retrait, Paris 20ème, M° Gambetta
From september 29th to  octobre 2d and the week-end of october 7th and 8th
from 2 to 8 pm ; nocturne on saturday 30th until 10pm …
friendly drink on saturday 30th from 7pm.
Of course I will be present at all times of opening.
 This exhibition is part of the 17th « Mois du Ratrait » http://leratrait.org/
and the Portes Ouvertes of the Ateliers de Ménilmontant http://ateliersdemenilmontant.org/
---
A successful vernissage !
Marseille, Tuesday April 4th 2017 ...
Click on an image to view as a slide show.                                                                        Pictures byThierry Pellicani
---